artificial wedding flowers
Following links on this website and making a purchase could result in a commission to the owner of the website
If you want artificial wedding flowers to look realistic, you need to shop carefully, looking at the close up photos and read the reviews from previous buyers.  Quality artificial will cost more per stem and show a higher quality of craftsmanship.
Look closely at these photos.  Artificial flowers with a jagged or frayed edge (referred to as "burrs) is a sign of poor quality.  For wedding flowers, look for sharp, clean cut edges with no visible fraying.
Next, take a good look at the petal quantity.  Fewer petals or a lack of tight layers means the flowers may look limp or fall open, showing the obvious fake stem and center.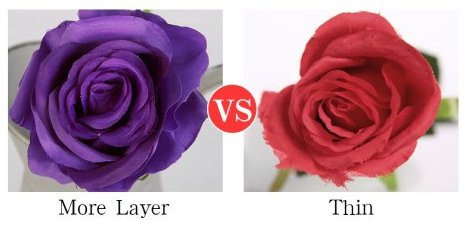 Read the fine print to see what fabric is used.  Although the common term is "silk" flowers, they are more likely to be a polyester blend with a sheen on the fabric.  Some of the newer flowers are being made of a thin foam, which gives cleaner cuts and a "rolled" petal effect.  Quality fabric flowers may present a more realistic look, with varying shades of color.  Both are beautiful, so it's just a matter of personal preference.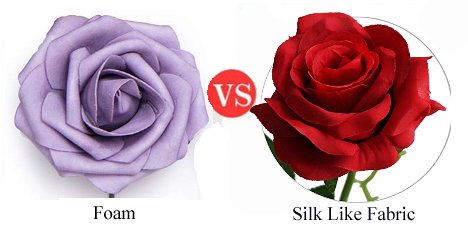 Compare the look of the stems.  If you do not plan on using stems in your design, look for artificial flowers being sold by heads only.  If you want the stems (such as in a hand tied bouquet) look for the same, clean cut edges.  Details such as realist looking leaves with veining or thorns on a rose are signs of a higher grade of artificial wedding flowers.
Much of the same criteria applies to buying artificial bush flowers.  The higher quality usually is more realistic, having different sized heads and buds, plus more lush greenery.  Cheaper bushes often have the same size heads, thin wire stems and cheap looking leaves.
To save money, consider what you are using the flowers for.  If you have a tight budget, save by using inexpensive bush flowers for the larger, ceremony decorations, but invest in quality for the bridal bouquets, corsages and boutonnieres.  These are the flowers that will be examined more closely and show up in wedding photos.
Last, understand that most artificial wedding flowers are manufactured in China, as thus are compacted during shipping to save on space.  Don't be alarmed if your flowers arrive looking tight and crumpled.
Simply take the time to spread the flowers out, opening the bush or leaves fully open.  If the blooms look flattened or misshapen, use a warm setting on a hand held hair dryer to take out the creases and restore the blooms to their full glory. 
artificial flower galleries