Rose Wedding Bouquets
Bind Wire
The bouquet is a nice rounded design with tightly bound stems by now.
The bride was going for a rustic look, so I suggested we use paper covered Bind Wire as a bouquet handle finish.
This is flexible wire covered with brown or green paper.
I slide the top of the cut wire under a flower stem.
I give it a tight twist to secure it into place.
I wrap the wire around the bouquet handle, working my way upward to cover the cut end of the BindWire.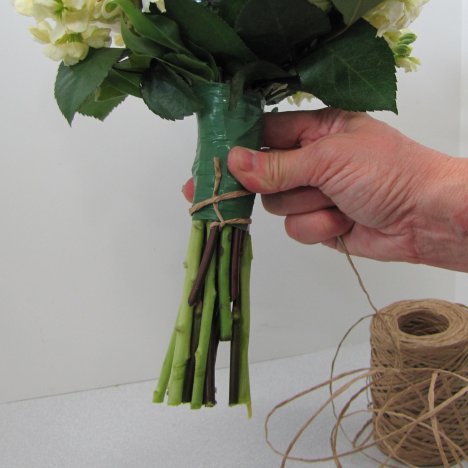 After a few good wraps, I begin to wrap more closely in order to conceal the green bind tape.
By the time I'm finished the rustic looking handle fit in perfectly with her wedding theme.