David Austin Roses
Buy Flowers in Single Bunches
Before you buy flowers on the internet, compare and shop carefully.  Wholesale flower sites often require large minimums when you place your order.  READ THE FINE PRINT.  I sell flowers in single bunches so the DIY bride can mix and match and not blow her whole flower budget on one flower variety.  I also sell greenery in single bunches as well.  How can you save if you are forced to buy way more than you need?  They claim "free shipping" - but actually build the shipping costs into the flower price in the form of volume buying.
Buying in single bunches allows you the freedom to mix and match colors and flower varieties.  After all - do you really need 10 bunches of leather leaf?  
I try to price flower reasonable and provide everything else you need (flower sealants, rehydrators, bouquet holders, Floralock and more) so you can have a "one stop shopping" for all your flower needs in one place.  Don't miss the page where I show the proper way to process dry pack roses and other wedding flowers.
Can't find it on my store?  Contact me.  I ship out of one of the largest floral wholesalers in the United States.  I'll do my best to find what you need.
Beatrice
David Austin roses have become a symbol of gorgeous wedding flowers.  The numerous petals, wide open face and soft colors can create a beautiful focal point of any bridal bouquet!

This David Austin rose is called Beatrice and is classified as a yellow color.  Full ruffled petals cup a classic swirl of a garden rose.  The scent is light and delightful.  Use these lovely blooms as a focal point for your wedding bouquet, church decorations or reception centerpieces.
Click on the links below to see all of the garden roses available from David Austin.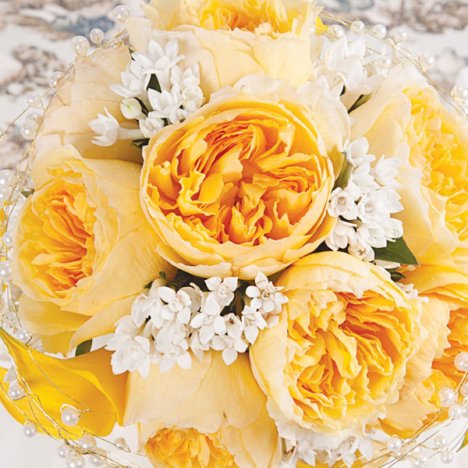 Free Flower Tutorials