Corsage and Boutonniere Supplies
Easy Pin Attachment
Attaching corsages and boutonnieres to lapels has never been easier.  The slender EasyPin attachment is taped directly to the back of the flower.  The double pin is on the upper half of the design.  
Grasping the lapel with your right hand, press the corsage or boutonniere directly to the lapel until the two pins pierce the fabric through to the other side.  Press the rubber stopper against the two pins until they are firmly seated into the stopper.
Smooth down the lapel and you're finished!  Easy to pin on and easy to take off!
There are two full sets per package.  Enough to do one boutonniere and one matching corsage.
Two Complete Sets per Each Package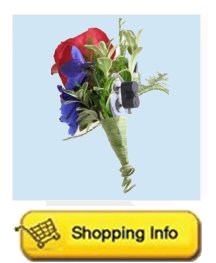 Free Flower Tutorials